When many people think of visiting Florida, images of beach vacations and Disney World come to mind. However, Florida is also filled with peaceful and quaint farms, some of which open up to guests for unique overnight stays. If you're looking for a very different way to experience Florida, consider booking one of these farm stay experiences that are listed on Airbnb or Vrbo.
Florida Farm House, Geneva
This farm stay experience is available through Airbnb and is a great escape from everyday routines. The farm is home to goats and chickens, and it offers a glamping-style experience close to Danville. The rental has air conditioning, heat, Wi-Fi, and an indoor toilet. It is also equipped with a vintage wood stove, microwave, smart DVD player, TV, cable, and a queen-size bed in the bedroom. For an authentic farm experience, you can learn how to milk a goat or go horseback riding through the adjacent park.
Farm Stay Maison de L'eau Douce Lakehouse, Odessa
Four guests can stay in this private farmhouse that has one bedroom, one bathroom, a full kitchen, and laundry machines. It is on 2.5 acres of land in a private and quiet area of Odessa. The property has three houses, and all of them have access to the backyard. A canoe and kayak are included with your stay here along the lake. You'll be in a farm-like setting as well as a lake setting, with free-range chickens, goats, a lamb, ducks, and dogs living onsite. It's fun to visit the historic town of Tarpon Springs when you stay and also Busch Gardens and Ybor City. You can bring your pets along to stay here.
1910 Farmhouse Charm in Orlando Area, Seminole County
Available to rent through Vrbo, this farm stay is eight minutes from downtown Sanford and within five minutes of the Orlando/Sanford International Airport. It was built in 1910 and has one bedroom and one bathroom to accommodate four people. This is a nice farm stay to be at if you're looking for a central location in Florida and to be near major theme parks, beaches, and local attractions. Within 45 minutes, you can get to the Disney theme parks, Universal Studios, and New Smyrna Beach. The host family lives in the main house, but this rental is a separate section of the house with its own private entrance.
Charming Farm Cottage Near Everglades Park & Keys, Homestead
For two travelers, consider this one-bedroom, one-bathroom farm stay that is 10 miles from the top South Florida tourist attractions. It's easy to visit Flamingo Everglades Park and the Florida Keys from here. You'll be in a gated community with the resident cows, horses, and birds. The space includes a queen-size bed, convertible sofa, fridge, and microwave.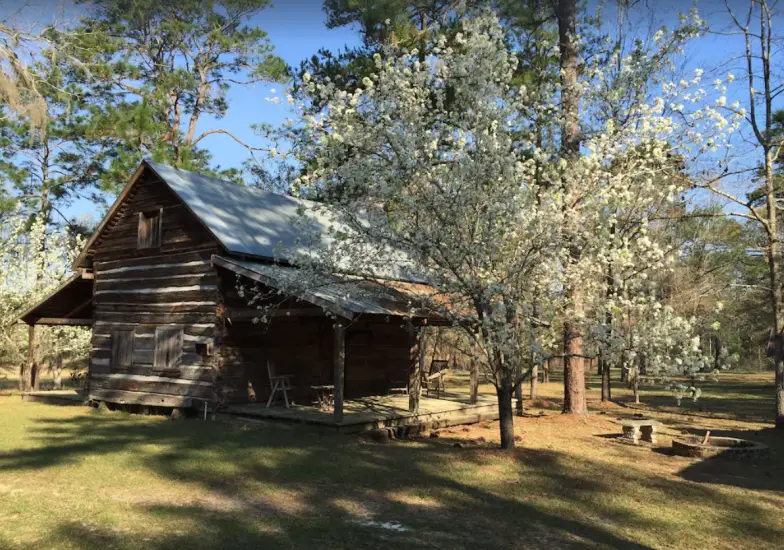 Lawton Chiles Vintage Historic Cabin, Tallahassee
This farmhouse sleeps four people and is a vintage cabin with views of a lake. It has two bedrooms and one bathroom on an organic blueberry orchard. There is a lot of wildlife in this area and also wooded trails and opportunities to go blueberry or pear picking in the right season. There are actually two cabins available to rent on this property, and both are one-of-a-kind vintage spots.
Modern Farm Cabin on a 215-Acre Old Tobacco Farm, Havana
You can stay on what was once part of a large tobacco farm with this Airbnb farm stay for two people. It has a king-size bed, couch, 1.5 bathrooms, and gourmet kitchen on 215 acres of land to roam. The property also has a 10-acre stocked lake for bass fishing, so bring your own fishing gear. Other things to do while staying here are to see the farm animals, hike, and experience a real working farm with hay and blackberries. Pets are allowed here with advance notice.
Farm House on Four Acres, Wakulla County
Larger groups of up to nine people can book this Vrbo Florida farm stay and have 1,500 square feet, four bedrooms, and two bathrooms to themselves. The home is on four acres of land and just off the Coastal Highway. It's also close to secluded beaches and has a huge, screened patio with a grill. Other features of the rental are eight free bikes to use on the trail that connects to the house, chickens living onsite, and beach gear provided. You can join a manatee kayak tour just two miles away.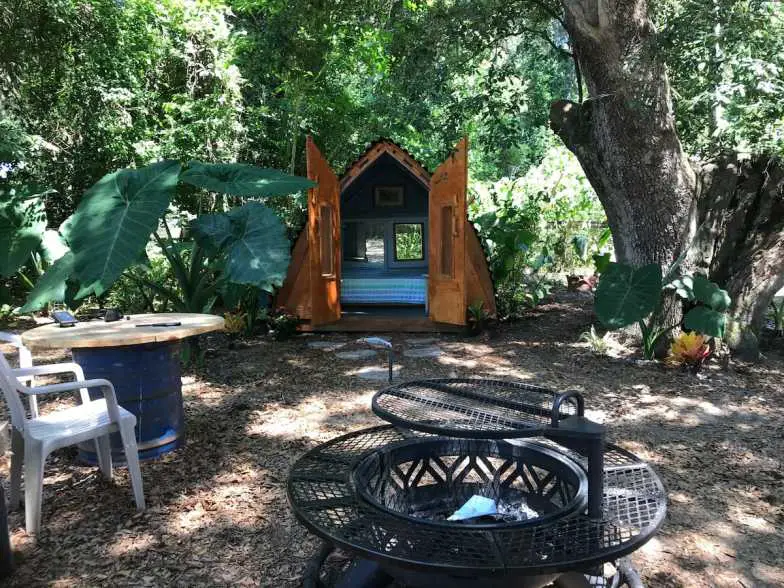 Tiny House Cabin on Lovely Fort Brook Horse Farm, Ocala
It's fun to be at this farm stay and tiny house on a horse farm when you are traveling through Florida. It's a unique and cute space that has a queen-size bed in the common space for two people. The tiny house offers a bathroom, Wi-Fi, free parking, air conditioning, and a backyard. Pets are welcome to stay here with you. Sit outside around the fire to roast s'mores and enjoy the large outdoor space with horses, goats, dogs, and cats around you on the farm.
New Barn Cottage at Crews Lake Farm, Lakeland
You'll be on a 240-acre ranch and farm when you book this four-person Airbnb rental in Florida. It is a 725-square-foot, cottage-style home with a full kitchen, open floor plan, laundry machines, and two porches. The rental has a cozy and relaxing vibe in a rustic setting. For a small fee, you can bring your pet to stay with you here. Children of all ages are welcome, but the space is not child-proofed. There is a larger vacation rental that sleeps 12 people on the same property if you have a larger group.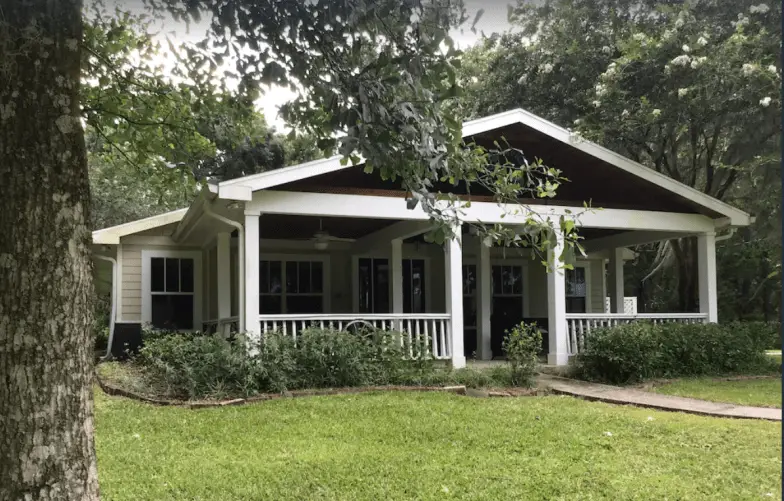 Six Branch Ranch Guest House, Sumter County
Eight people can stay at this ranch guest house that has four bedrooms and 2.5 bathrooms in 2,160 square feet of space. It's a Central Florida vacation rental that's about halfway between Tampa and Ocala. The ranch spans about 120 acres and has eight lakes. It's a lovely spot for fishing, walking on the trails, and taking out your own kayak or canoe. For an extra fee, you can board your horse overnight at the stables. The location of this farm stay experience is convenient for visiting Busch Gardens and the Disney attractions.
Farm House on the Withlacoochee River, Citrus Springs
Have a unique Florida experience with this Vrbo vacation rental that is a 1,520-square-foot farmhouse with three bedrooms and two bathrooms. The property is on over 50 acres along the Withlacoochee River and is shaded by oak trees. From here, it's easy to visit the Rainbow River/Springs and Homosassa Springs. Fun things to do during your stay include freshwater and saltwater fishing, scuba diving, airboat rides, and swimming in the springs. Up to five people can stay at this Vrbo and bring up to two dogs of any size with them.
Farm Stay at Malfini Cay Guesthouse, Odessa
Enjoy a quiet area of Odessa with this farm stay rental that is one of three houses on the property. It's on 2.5 acres of land and has access to a backyard and lake. The home has a kitchen, in-unit laundry machines, high-speed Wi-Fi, and flat-screen TVs. The sleeping arrangements for up to four guests are a queen-size bed, sofa bed, and air mattress. The farm setting here has various animals living onsite and is home to a family of red-tailed hawks. The hosts consider group gatherings and parties here if you book multiple Airbnb houses on this property and are quiet by 10 pm. Guest pets are allowed here.
Restored Florida Farmhouse on Orange Grove, Floral City
Experience an orange grove farmhouse with this Airbnb rental that is filled with Old Florida history. The home is on 66 acres of land with oranges, swamps, pastures, and waterfront trails. You'll have the whole home to enjoy here, which includes two screened porches, a living room, a full kitchen, a bedroom, and two bathrooms. Up to four people can stay at the home, which is not very secluded but backs up to a natural and wild property. You're close to Homosassa Springs, Crystal River Springs, and Rainbow River Springs when you stay here. Guests are even welcome to harvest their own citrus fruits for same-day consumption between November and April.
Strawberry Field Stilt House, East County Civic Group
Situated on five acres of land in Plant City, this stilt house has one bedroom and one bathroom to accommodate four people. For sleeping, it has a king-size bed in the bedroom and a queen-size sofa bed in the living room. The home comes with laundry machines and supplies, a walk-in shower in the bathroom, toiletries for the bathroom, and a Blu-ray DVD player. This farm stay experience is unique because it's by a strawberry field, which is plowed in August or September and produces strawberries until March or April.
Magical Time at Bluebela Farm, High Springs
Enjoy your own private farmhouse with natural springs about 1.5 miles away with this Airbnb rental for two guests. Features of this rental are the outdoor kitchen, sparkling pool, queen-size bed, Wi-Fi, and laundry machines. Make sure to bring your bathing suit for the pool! Fun things to do in this local area are cave diving, dining out at restaurants, and browsing the farmers' market and antique stores.