While we should all be practicing social distancing, that doesn't mean staying indoors 24/7. Getting some fresh air and sunshine brings many benefits, and if you're in Arizona, you'll have access to miles and miles of scenic hiking trails. Keep in mind that as things are changing on practically a daily basis, be sure to confirm the latest information on closures before heading out to avoid disappointment – and, of course, stay at least six feet from others on your treks too.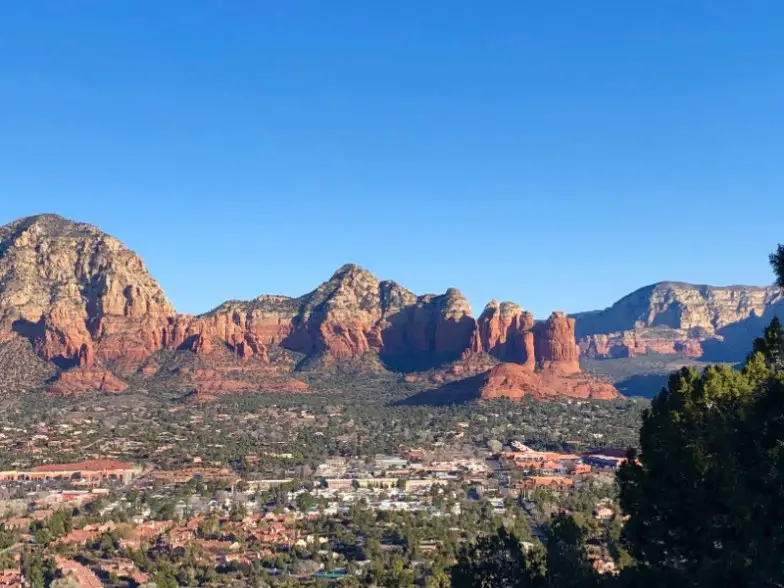 Sedona
Sedona is one of the best places to hike in the state, with a variety of trails to choose from. If you're looking to enhance the body, mind and soul, consider hiking to one of the vortexes that this area is famous for. Many people come to experience these swirling energy centers that are conducive to healing and meditation, including the Airport Mesa Vortex which is one of the easiest to access via the 3.2-mile hiking loop around Table Top Mountain that winds through basalt boulders and red rocks to stunning panoramic vistas.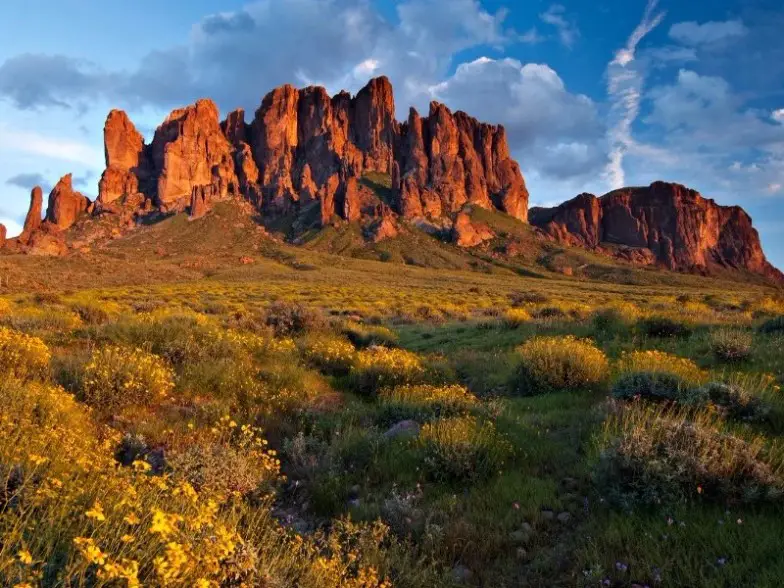 Superstition Mountains
The Superstition Mountains lie just 40 minutes east Phoenix, jam-packed with miles of gorgeous trails and unique geological features. One of the top hikes here is the approximately 2.4-mile Treasure Loop Trail, which takes around two hours to hike, accessed from Lost Dutchman's State Park which sits at an elevation of 2000 feet. It will bring you through and past interesting rock formations, with benches along the way if you need a rest. Spring is an ideal time to hike to enjoy it with wildflowers like lupine, poppies, globemallow and other colorful varieties in bloom.
Saguaro National Park
The trail system at Saguaro National Park in Tucson remains open although facilities like visitor centers and front country restrooms are closing temporarily. As it's a popular place to hike, try to arrive early or enjoy a sunset hike to avoid crowds. If you're looking for a short trek, the Freeman Homestead Trail is a one-mile path that leads to the site of an old homestead foundation, a grove of large saguaros and a desert wash where you can often spot Great Horned Owls in the cliff above. There are interpretive signs about the plant life and history along the way. The 2-mile Hope Camp and Ridgeview Trail bring spectacular panoramic views and brilliant wildflowers – after rain, waterfalls can be seen on the ridge as well.
Prescott
The Prescott area offers many scenic hikes among the fresh, forested mountain air. Lynx Lake sits among the cool Ponderosa pines and features a 2.4-mile trail that runs along the shores of the entire 55-acre lake. There are park benches and tables for breaks along the way with plenty of shade and bird watching opportunities too, including blue herons, osprey, eagles and double-crested cormorants. The 4.8-mile trail around Watson Lake offers picturesque views of the Granite Dells, multi-color boulders and rock formations, while the popular 2-mile Thumb Butte Trail climbs up to a point that sits just below the crest of Thumb Butte.
Papago Park, Phoenix
Papago Park is just minutes from downtown Phoenix and offers smooth trails with a little elevation gain that is ideal for hiking, mountain biking and trail running. The moderate 2.3-mile Double Butte Loop Trail brings views of springtime wildflowers on the west side of the park, while the east side offers an interpretive nature trail to learn about desert flora and fauna, as well as a short trek inside Hole-in-the-Rock, the most popular scenic viewpoint in the park.
Grand Canyon National Park
Grand Canyon National Park is open and admission fees are waived, however, all the lodges, shuttles and visitor centers are closed. It's still possible to hike the trails, like the South Kaibab Trail which snakes down an exposed ridge, carved out of the canyon's walls by the National Park Service in the 1920s. It offers some of the best views of the canyon for a relatively short but steep hike with options for treks of up to six miles in length. Cedar Ridge, 1.5 miles in, is a good turn-around point for a casual day hike.
Chiricahua National Monument
Tucked into Arizona's southeastern corner, Chiricahua National Monument is a hidden gem with remarkable stone formations. A wonderland of spires, columns and boulders, the network of trails offers multiple hiking options. For a short trek, the 1-mile Echo Canyon Grottoes offers an excellent introduction to the monument's wilderness area and the chance to walk among the rock formations. If you're up for something a bit longer, the Echo Canyon Loop spans 3.3 miles and also features magnificent formations like the Grottoes and Wallstreet, along with lots of desert plants.
Kingman Monolith
Kingman may not be well known for hiking but just outside of town you'll find a bounty for hikers with a scenic network of trails across the Cerbat Foothills Recreation Area. The Monolith Garden Trail is the most popular, with the maze-like route winding through ramparts of volcanic ash and impressive boulder fields. The series of loop trails are about seven miles in length, best enjoyed outside of the summer months as there is little shade and no water. Spring brings beautiful wildflowers like lupine dotted across the landscape.
Flagstaff
Flagstaff offers beautiful mountain hikes, including treks to Humphrey Peaks, the highest point in Arizona at 12,633 feet, featuring one of the most scenic viewpoints in the San Francisco Peaks, including the Grand Canyon on a clear day. If you're not up for a strenuous, rocky hike, the Kachina Trail is 5.5 miles one way and traverses the southern slopes of the San Francisco Peaks, bringing the greatest reward to effort ratio of any trail in the area with relatively little elevation change. It passes through conifer groves and aspens edged by lush meadows before providing great views of the mountaintops above and hills below.
Santa Catalinas
There's a surprising oasis near Tucson with cascading waterfalls just beyond the city limits in the Santa Catalina Mountains. Outstanding scenery abounds throughout the Santa Catalinas, with everything from steep rock cliffs to foothills covered with unique desert plants, but the Seven Falls Trail is one of the best to take in the spring as it's when the cascades are typically going full force. About eight miles round trip, allow at least four hours to cover it, starting at Bear Canyon Trail in the Sabino Canyon Recreation Area.
Oak Creek Canyon, Sedona
A short drive outside the red rocks of Sedona is 12-mile-long Oak Creek Canyon, where Oak Creek flows through year-round along the bottom, providing opportunities for swimming, along with water for wildlife and plants. Its depth ranges from 800 to 2000 feet and there are trails providing access from the bottom up to the 6500-foot eastern rim and the 7200-foot western rim, some of which traverse historic routes early settlers used to access the top of the plateau before the road was built. The West Fork Oak Creek Trail is a six-mile round-trip hike, offering views of the colorful canyon walls, and during the spring and early summer months, native wildflowers and hummingbirds.
Camelback Mountain, Phoenix
The trail to the top of Camelback Mountain is considered a Phoenix institution. With its elevation of 2704 feet, it offers outstanding views right in the heart of the valley. While it can be done as a strenuous workout by jogging to the to9p and back down, it's ideal for a more leisurely trek too, allowing for time to take note of the flora, including cholla, Saguaro and barrel cactus. There are a few ways to hike it, although the Cholla Trail is the most scenic, 2.6 miles out and back.
White Tank Mountain Regional Park, Phoenix
For a taste of Arizona history and outdoor beauty, head to the White Tanks just outside of Phoenix city limits. White Tank Mountain Regional Park offers some 30 miles of excellent trails that range from just under a mile to nearly eight miles, with difficulty levels from easy to challenging. The one-mile Waterfall Trail is perfect after a good rain, providing lush views, while other options bring spectacular views of the mountains and panorama vistas of the valley below.
South Mountain Park, Phoenix
South Mountain Park is the world's largest municipal park, offering 17,000 acres of desert wilderness laden with nearly 60 miles of trails, including fantastic views from the top of the ridge just minutes from downtown Phoenix. While there are hundreds of trails in the area worthy of hiking, none offers the experience that the Mormon Trail to Hidden Valley trail in such a short span of time. In just 3.4 miles up and back, you can hike through a naturally formed tunnel, take in stunning views of the Valley of the Sun, the desert and downtown.